Apostille Services in all 50 States
We provide 100% secure, in-person & online Apostille processing services. Same day apostille available.
Choose The Apostille Service That Works Best For You
What Is an Apostille?
An apostille is a certificate that authenticates the origin of a document. In order for a document to be apostilled, it must first be notarized by a certified notary public, such as the ones at Mobile American Notary & Apostilles. Once the document has been notarized, it can then be apostilled by the state in which it was notarized. After the apostille certificate is attached, the document will be recognized as valid in any of the countries that are part of The Hague Convention. We stand behind every apostille we issue, providing you with the legal documentation you need.
Why Choose Mobile American Notary & Apostilles




WHEN DO YOU NEED APOSTILLE SERVICES IN LOS ANGELES?
If you are planning to use a U.S.-based legal document in another country, that country may require that the document be apostilled before they will accept it. This is especially common with documents such as birth certificates, marriage certificates, and divorce decrees, but it can apply to other types of documents as well. Apostille services are also commonly required for documents being used for international adoption. No matter what you need the apostille for, we can provide prompt and professional service so you receive your certificate quickly.
What Is the Apostille Process?
The first step is to contact a notary public to have your document notarized. Once the document has been notarized, we can create the apostille to accompany the document. The apostille certificate will be attached to your document and then returned to you. From there, you can use the document as normal in any country that is part of The Hague Convention. If you're ever not sure about the validity of the apostille, or you're having issues with your documentation while traveling, we're here to help.
Moving Forward With Your Apostille
Once you have the apostille, it's important to ensure it remains with the accompanying document as you travel or submit the paperwork to the proper authority. Apostilles are generally valid for a set period of time from the date of issuance, so be sure to check the apostille certificate and verify it will still be valid when you need to use it. If you want apostille services in California and have any questions, we'll be more than happy to help. We can issue a new apostille for a previously notarized document, should the apostille certificate expire before you travel.
At Mobile American Notary & Apostilles, we ensure each original document is authentic and verified before it is sent overseas or used in a foreign country. If you have any questions about our apostille services in the USA, please contact us right away! Check out the many types of documents we can help with:
PERSONAL DOCUMENTS
Diploma and Transcripts – High School and University/College
Teaching Certificate
Enrollment Verification
Graduation Certification
Education Credentials
Employment Verification
Benefits/Income Verification
Statements – Bank/Utilities
Driver's License and/or Passport
State Police Criminal History
FBI Background Record
Birth Certificate
Marriage Certificate/License
Death Certificate
Divorce Certificate/Decree
Dissolution of Marriage
Naturalization Certificate
Affidavit of Single Status
Power of Attorney
Authorization Letter
Consent to Travel
Estate Documents – Deeds/Wills/Trusts
CORPORATE DOCUMENTS
Certificate of Incorporation
Certification of Formation
Certificate of Good Standing
Articles of Association/ Organization
Certificate of Incumbency
Certificate of Origin
Certificate of Free Sale
Foreign Government Certificate
Tax Residency Form 6166
ISO Certificate
Quality Assurance Certificate
Charter Documents
Power of Attorney
Business Affidavit
Board Resolutions
Annual Report
Meeting Minutes
Stock Certificate
Bylaws
Amendments/Restatements
Invoice and/or Purchase Order
Sales Agreement
Supplier Agreement
Product List/Specifications
Affidavits
Would you rather mail in your documents? Here are 4 Easy Steps For Your Mail-in Apostille Needs

1. Text or Email Us A Picture of The Document(s)

2. Complete The Questionnaire

3. Mail In Your Document(s)
Mail your documents and order confirmation to the address provided. 10718 White Oak Ave, Suite 5, Granada Hills, CA 91344

4. Receive Document(s) Back
Sit back and relax while we do the work. Usually returned in under 2 weeks.
Quick and Reliable Same-Day Apostille Services in Los Angeles
At Mobile American Notary & Apostilles, we understand the urgency and importance of having your documents apostilled promptly. That's why we are proud to offer quick and reliable apostille services in Los Angeles and Ventura counties. When time is of the essence, you can count on us to expedite the apostille process efficiently.
Our commitment to providing same-day apostille services stems from our dedication to customer satisfaction. We believe that your time is valuable, and we are here to ensure that your documents are apostilled without unnecessary delays.
If you have any questions about apostilles or how we can help you notarize your documents, please don't hesitate to contact us. We offer efficient notary and apostille document services throughout Los Angeles and Ventura counties. Within an hour of your call, we can arrive at any location, including your house, office, studio, law firm, hospital, courthouse, and more. We also offer apostille online services. All you need to do is mail your documents to us.
We needed notary service this afternoon, I contacted Shawn and he was able to come by on such short notice. He got the documents I needed notarized and faxed over right away. I'm completely blown away by his professionalism. Highly recommend his services! Will definitely use him again. Thanks Shawn Rader!
- Iris F.
We've used Shawn twice on last minute needs. He was able to decipher what was needed since it was a foreign document and didn't just sign blindly. Quick and friendly.
- Juna Y.
Shawn was able to come to our house on the weekends which was very helpful. He was prompt, efficient, and courteous. Good price compared to others.
- Tracy C.
Member of
Hollywood Chamber of Commerce, Member of National Rotary Association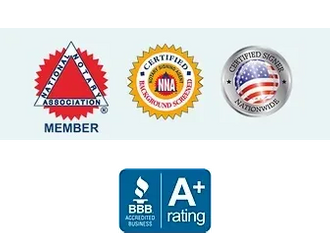 Frequently Asked Questions
How much does an apostille cost in the US?
The cost of an apostille in the US varies by state and document type. On average, expect to pay between $20 to $50 per document. However, pricing can differ, so it's advisable to check with your local Secretary of State office for precise fees.
How long is apostille valid in the USA?
An apostille issued in the USA is generally valid indefinitely as long as the content of the underlying document remains unchanged. However, it's advisable to check the specific requirements of the receiving country, as some may have expiration or reauthentication policies.
Who issues apostille in the US?
Apostilles in the US are typically issued by the Secretary of State's office in the state where the document was originally notarized or issued. Each state has its own authority responsible for apostille issuance.
What are the benefits of apostille?
Apostilles serve as an internationally recognized certification of the authenticity of a document. They simplify the process of using your documents abroad, making it easier to conduct business, study, or engage in legal matters in foreign countries.
How long does it take to get an apostille?
The processing time for an apostille in the US can vary depending on the state and document type. While it may take anywhere from a few days to several weeks, we, at Mobile American Notary & Apostilles, can offer you same-day appstile service in Los Angeles for your convenience.